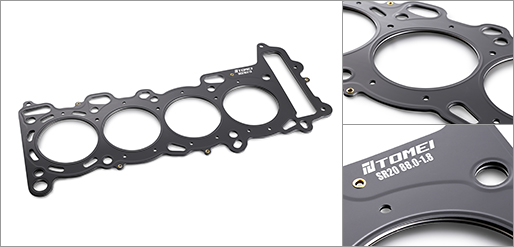 PREVIOUS
PART NO.

Φ87.0

1.0mm

TA4070-NS08A

1331870101

Metal

TA4070-NS08B


1331870121


TA4070-NS08C


1331870151


TA4070-NS08D


1331870181


Φ88.0

TA4070-NS08E


11044R305G


Metal

TA4070-NS08F


11044R306G

Tomei Gasket Ultra Durable, High Performance Head Gasket Highly Optimized, Engine Specific Construction Made Using Premium Grade Materials and Coatings Precision Water/Oil Route Seals Multiple Thicknesses For CR Adjustment Each gasket features an optimized combination of seals and beads derived from analyzing the engine's individual characteristics that include bore spacing/layout, head/block materials and sealing properties. This also helps limit the head/warp distortion that's often associated with other high performance gaskets.
STAINLESS STEEL
Stainless steel is used across all our high performance gaskets. Robust and resistant to high temperatures,stainless steel facilitates efficient transfer of heat from the combustion chamber to the cylinder block. In addition, it's flexible nature further strengthens the seal made by the spring-like beads which helps prevent issues such as blown gaskets and melted cylinder blocks.
UNIQUE RUBBER COATING
Both the top and bottom layers of the gaskets are coated in a specially developed unique rubber coating that reinforces the seal and contact with the head/block surfaces. Higher Compression, The perfect Seal, Prevent Problems With this Easy Upgrade !! The technological advancement of performance engines and even more so from tuned engines will increase the burden of stress on the head gasket. Under extreme conditions of high cylinder pressures and competition use, the head gasket is often the weakest point. The expansion and 3D pressure image shown, displays the effectiveness of the TOMEI multiple layered head gasket with the super grommet design (shown with the pressure image analysis system). The sealing performance is pursued with cross-section measurements and utilizing various functions within the design.
Whilst we strive to keep all popular gasket sizes in stock, lead time can be 2-3 weeks at times. Please contact us to confirm availability if urgent.