Raceworks Fuel Rails are the perfect complement to any demanding high-performance fuel system. Where necessary, rails are supplied with machined fitting kits ensuring a quick and easy upgrade, whether you're looking for massive fuel flow rates or simply converting to a modern top-feed injector. All Raceworks Fuel Rails have been carefully machined from high grade 6061-T6 aluminium, and are hardcoat anodised for a durable, attractive finish.
VE Commodore HSV & Corvette C6 Z06 (7.0L)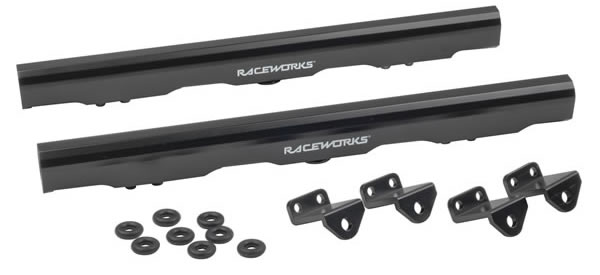 | Specifications | Colour | Part Number |
| --- | --- | --- |
| Mounting hardware as pictured. Rails have AN-8 O-Ring ports on ends and in centres. Included fittings are AN-8 Plugs x2. Rail accepts Short or 3/4 injectors with 14mm Top O-rings. | Black | ALY-032BK |
VE-VF Commodore LS2/LS3/L76/L77/L98 (6.0/6.2L)
Manifolds that use ¾ Length injectors from factory may require minor modification to the manifold/shaving of plastic tabs to fit this rail kit.
| Specifications | Colour | Part Number |
| --- | --- | --- |
| Mounting hardware as pictured. Rails have AN-8 O-Ring ports on ends and in centres. Included fittings are AN-8 Plugs x2. Rail accepts Short injectors with 14mm Top O-rings. | Black | ALY-017BK |
VT-VZ Commodore GEN-III LS1 (5.7L)
| Specifications | Colour | Part Number |
| --- | --- | --- |
| Mounting hardware as pictured. Rails have AN-8 O-ring ports on ends and in centres. Included fittings are AN-8 Male Flare adapters x4 and AN-8 Plugs x2. Rail accepts a Full Length Injector with 14mm Top O-Ring. | Black | ALY-016BK |
VL Commodore RB30 (3.0L)
| Specifications | Colour | Part Number |
| --- | --- | --- |
| Mounting hardware as pictured. Rail has AN-8 O-Ring ports on ends and an AN-6 O-Ring port on top. Included fittings are AN-8 Male flare adapters x2, AN-6 Male flare adapters x2, a AN-8 Plug and AN-6 Plug. Takes a Full Length Injector with 14mm Top O-Ring. | Black | ALY-012BK |